Research Programmes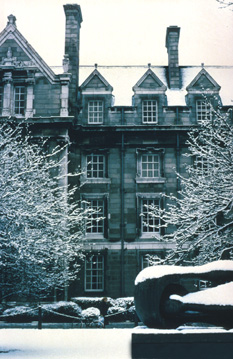 Research Degrees can be undertaken in the four departments of the School:
Prospective students intending to study for a PhD will normally be accepted onto the Probationary PhD register. The progress of individual students is reviewed at the end of each year and, subject to satisfactory reports, their status on the PhD register will normally be confirmed by the end of the 2nd year of registration. Completion of the degree is expected within four years.
Research can also be undertaken over the shorter period of two years for the degree of M.Litt as some research topics can be better addressed in a shorter piece of work. Students still have the option of applying for transfer to the PhD register, subject to satisfactory progress.
The M.Litt thesis has a maximum of 60,000 words and the PhD a maximum of 100,000 words.
Prospective students are advised to contact a member or members of staff whose research interests are in keeping with their intended area of research. If in doubt, the School's Director of Postgraduate Teaching and Learning may be consulted.
Guidelines for Writing a Postgraduate Research Proposal (PDF, 678kb)
The School of Histories & Humanities' postgraduate handbook (PDF, 699kb)
Histories & Humanities Progress Report Form (DOC, 87kb)
Research and Professional Development Plan template (DOC, 127kb)
Submission Review Report template
The Structured PhD in the School of Histories & Humanities (PDF, 92kb)
Trinity College Postgraduate Supervision Guidelines (PDF, 635kb)
Research Modules