Home
Quicklinks
NEWS & EVENTS
Congratulations to Dr. Joseph Clarke and Professor John Horne of the History Department. who have received an EU-funded HERA award for their role in the research project, 'Making war, mapping Europe: cultural encounters and the soldier traveller c. 1792-1945'.
Congratulations also go to Dr. Robert Armstrong, also from the History Department, who has won a Provost's Teaching Award for 2013.
May 16th 2013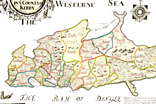 TCD Website Brings 17th-Century Maps Together for First Time in 300 Years
A new Trinity College website brings a unique 17th-century map collection together for the first time in 300 years as a public online resource.
Led by Dr Micheál Ó Siochrú, Associate Professor in Modern History, TCD historians have now tracked down over 2,000 contemporaneous copies of the original survey maps in dozens of libraries and archives throughout Ireland, Britain and France, and brought them together as a free online resource.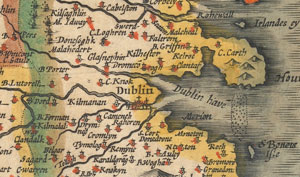 15th Medieval Dublin Symposium (PDF, 594kb) takes place on Saturday 25th May 2013 in the Robert Emmet Theatre, Arts Building, Trinity College. This day-long series of lectures, on the archaeology, history and literature of Dublin from the Vikings to the Tudors is free of charge; no advance booking is required.
Calling all postgrads with an interest in gender! The Edgeways project, supported by TCD's Equality Fund and the Centre for Gender and Women's Studies, will involve a day of workshops (Thursday, 2nd May) for Transition Year students on gender and the media. These workshops will be facilitated by TCD postgraduate students and located on the TCD campus.
March 5th 2013
SHH Newsletter January 2013 (PDF, 1.1mb)
January 28th 2013
The Annual Public Lecture in American History - "Democracy and Money in America: A Historical Perspective on the Election of 2012", delivered by Professor Gary Gerstle, is now available as an audio file from the History department's Multimedia page
31st Oct 2012