Home
Quicklinks

Ireland in Rebellion, 1782-1916
This is a free 14 week online course about the making of modern Ireland looking at the period 1782 to 1916 and beyond. Beginning with the winning of legislative independence, and exploring the competing forces of constitutional nationalism and radicalism, it looks at the forces which led to the creation of the independent Irish state.
The course is presented by Professor Patrick Geoghegan
Course Handbook (PDF, 145kb)
---
NEWS & EVENTS

The Trinity Centre for Research in Irish art (TRIARC)
Summer School in the History of Art and Design
Monday June 20th to Friday June 24th 2016
This innovative five-day course, led by Departmental specialists and guest lecturers, will examine key aspects of Irish and European art and design history. It will enable teachers, students, educationalists and art history enthusiasts to deepen their knowledge and enhance their visual literacy.
Trinity Debates 1916 in London
22 April 2016
Trinity became the first Irish university to host a major 1916 event outside of Ireland, when it joined with The Institute of Irish Studies, at the University of Liverpool, to host a major debate on 1916 in London on 31 March 2016.
Full Report
The Early Irish Manuscripts Project has completed the digitization of the 9th century Gospel book known as the Garland of Howth and it is now available online. For the first time in its history, the manuscript can be viewed by people around the world.
Follow our blog about the project to learn more.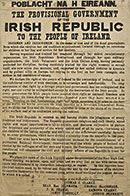 Professor Patrick Geoghegan discusses the 1916 Proclamation as a "triumph of inspiration" in the Irish Independent.
1/2/16