Home
Quicklinks

Ireland in Rebellion, 1782-1916
This is a free 14 week online course about the making of modern Ireland looking at the period 1782 to 1916 and beyond. Beginning with the winning of legislative independence, and exploring the competing forces of constitutional nationalism and radicalism, it looks at the forces which led to the creation of the independent Irish state.
The course is presented by Professor Patrick Geoghegan
Course Handbook (PDF, 145kb)
---
NEWS & EVENTS
Trinity Debates 1916 in London
22 April 2016
Trinity became the first Irish university to host a major 1916 event outside of Ireland, when it joined with The Institute of Irish Studies, at the University of Liverpool, to host a major debate on 1916 in London on 31 March 2016.
Full Report
The Early Irish Manuscripts Project has completed the digitization of the 9th century Gospel book known as the Garland of Howth and it is now available online. For the first time in its history, the manuscript can be viewed by people around the world.
Follow our blog about the project to learn more.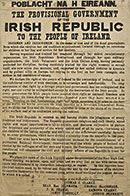 Professor Patrick Geoghegan discusses the 1916 Proclamation as a "triumph of inspiration" in the Irish Independent.
1/2/16

Excellent news for TCD's History Department as the latest QS University Rankings see History's standing climb from 48th place to 39th place in the world. It is a fantastic achievement, given the difficult economic circumstances in which the Department and College have operated for the past few years - and it reflects the commitment of all History's staff to the publication of cutting-edge research and research-led teaching. We are delighted too that three other disciplines in the Faculty of Arts, Humanities & Social Sciences also rank in the top 50 - confirming Trinity's position at the forefront of Irish and world rankings in the arts and social sciences.